Artificial Disc (Charite)
The artificial disc has attracted much attention over the last several years. The concept behind the artificial disc, is that it allows for motion preservation (arthroplasty), as opposed to a fusion, which eliminates motion. In theory, the concern about a fusion, is that the mobility between two adjacent vertebral levels is eliminated, thus causing the disc level above and below to "make up" for that lost movement, eventually leading to increased stress on the adjacent levels, and eventually accelerated degeneration of the adjacent levels. The goal of the artificial disc is to avoid this cascade of degeneration.
The first artificial disc to be approved by the FDA, in the United States, was the Charite disc, which is manufactures by DePuy / Johnson and Johnson. There are two basic models of the artificial disc, causing either "constrained" or "non-constrained" movement around the ball axis of rotation. The Charite artificial disc offers a non-constrained movement.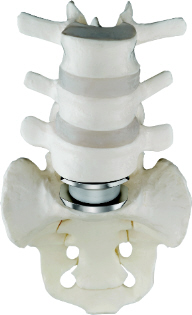 On the left, the Charite artificial disc is seen. The Charite artificial disc is implanted between the L5 and the S1 vertebral levels. Between the cobalt alloy endplates of the Charite artificial disc, is seen the polyethylene core. The upper and lower surfaces of this core are spherical, and it is this design which provides for the non-constrained movement of the Charite artificial disc. The goal in this case, is to limit the "wear and tear" on the L4/L5 disc space.
When it comes to the artificial disc, whether it be the Charite or other varieties, the concept of motion preservation is called arthroplasty. Over the next several years, arthroplasty methods, including the artificial disc, as well as others, will likely become increasingly popular options in the treatment of back pain.