low back care (cont'd): preventing "back attack"
Stretching
Stretching can help to prevent back problems, and it can help to relieve pain once it occurs. A "cold" or unexercised muscle is more prone to injury. Stretching helps to "warm" the muscle, and allow it to respond well to the strains of exercise and activity. You let your car warm up in the morning before driving it on a cold day. Why not let your back and body warm up.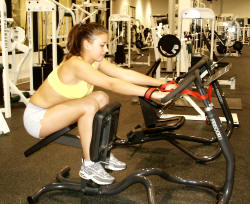 Stretching on the Precor Machine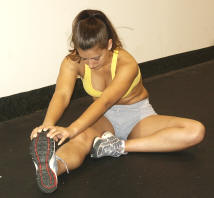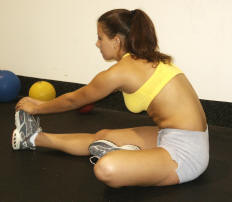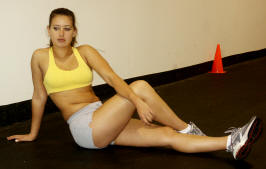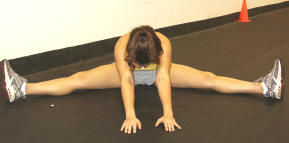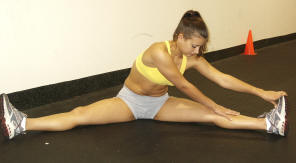 Exercise (Strength Training)

Muscles, tendons and ligaments hold the spine together, and the spine holds the body erect. It is important to maintain the muscles holding the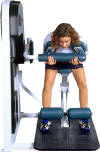 spine, and keep them strong and toned. Think of the guide wires supporting a tall antenna. If one of the wires breaks, the antenna will lean to one side, and the other guide wires will have additional stress. The back works the same way. When the muscles become weak, the ligaments and tendons have to "pick up the slack," and they develop strain and pain. As a result, one's posture suffers, causing deterioration of the curves of the spine, and the strain and pain in the ligaments and tendons only worsens. Soon, it's tough to break this cycle, and one develops chronic low back pain. LET'S BREAK THE CYCLE. EXERCISE!!
In order to assist in strengthening of the lower back, one must also strengthen and develop the muscles in front and on the sides (the abdominals). Focus on exercises that work the lower abs, obliques and the quadratus.
Aerobic Exercise
When muscles don't get enough oxygen, they hurt. When one exercises aerobically, more blood and oxygen are pumped through the body, and through the muscles. This helps to muscular pain to subside. In addition, the muscles will become stronger, more resistant to injury, and more likely to recover quickly in the event of an injury. Besides the mechanical effects of cardiovascular

exercise, one gets a sense of "well being." This is sometimes described as a runners high, but it can be experienced during other types of exercise as well. This is in part due to the natural release of endorphins, which are similar to opiates, and are "natural pain killers." Finally, an additional benefit of exercise is its strengthening effects on the heart.
Wait, it's the WEIGHT
Yes, that delicate subject nobody likes to talk about. Weight. Without obesity, there would be a

lot less low back pain. I am not passing judgment, just stating a simple fact. If this seems difficult to believe, consider the following. Imagine carrying a fifty pound back pack on your back. After an hour, your back may start to hurt, and you would want to remove it. Now, what if you couldn't remove it? After two hours, it would hurt even more. After twelve hours it would hurt more. After two days, it would hurt even more. After a month, it would really hurt. After 6 months, the pain would be unbearable. Do you agree? I knew you would. Well, your low back doesn't know whether the weight is strapped on in a back pack, or whether it is built in!! That makes no difference to your low back. I think you will agree.
It's Up To You
If you follow all of the advice given above, congratulations. It isn't easy, but you know the advantages of taking the time out of your busy day to accomplish your goals. But the majority of people don't fall into this category. Whether or not you are willing to admit this to others, or even to yourself at times, please, admit it now, and we are on the right road to correcting the problem. Options you have are as follows:
Ignore this advice, and the problem will probably continue.
Move to the moon, where gravity is only one seventh that of the earth's, and the problem will solve itself ( I don't recommend this)
Make a new year's resolution, or a new month's resolution, and you will probably be a weekend warrior, for a weekend; but the problem is that you don't have the time, and even if you did, you're not exactly sure how to go about the seemingly impossible problem of transforming youor body
Follow the principles discussed on this site, and follow the guidance of a team of experts who know how to accomplish these goals, and maintain the success
We each know what the appropriate answer is for ourselves, but as long as we get to a relatively pain free state, any of the above is "OK by me." But if you want our help, the LOW BACK TEAM is here.
As a team, we can get so much more done, than when
when we go it alone!!
.

Let the Low Back Team know how we can assist you.